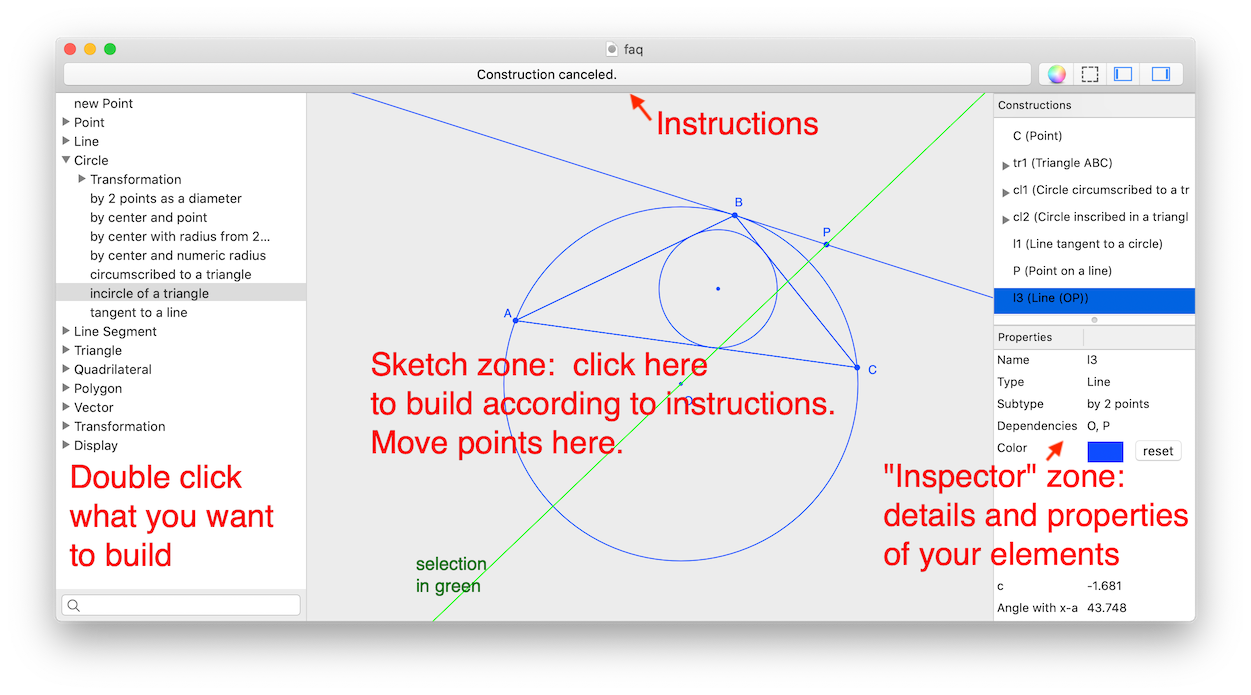 The spirit of this application is to reproduce simply on a computer what you can do with a ruler/compass, and make the process light and simple. If what you try to do feels hard, you are on the right webpage! The video tutorials section can also help.
FAQs
I'm lost, where should I start?

Check out the video tutorials.
If that's not enough, a lot happens on the list on the left hand side. Double-click on "Movable point" then click on the big zone to place your point. For other constructions (line, circle, ...) it is the same: double-click what you want to build and follow the instructions in the zone at the top.

I don't understand how this works. I'm trying to draw a circle for instance but I'm blocked.

In the spirit of "doing everything with a ruler and a compass", to draw a circle you need a center and a size. First build a point ("movable point", at the top of the list) which will be the center of your circle, then add a second point, which will be some point on your future circle. Only then you can create a "circle by its center and a point on the circle". You will be asked to select those 2 points.

I would just like to delete a point but it deletes much more

Everything that depends on an element will be deleted if the original element is. If for instance you draw a circle and then a tangent to that circle, deleting the circle will also delete the tangent. This is reasonable since the tangent is not "well defined" any longer.
At deleting time, everything in red that depends on your selection will be deleted if you click the "ok to delete" button.
If you are just trying to hide "construction lines", see the next question.

How to erase "construction lines"?

You can select the elements you want (points, lines, ...) and mark them as "Hidden" by going on the menu Selection -gt; Mark hidden.

Can we use coordinates?

Yes! Despite the application originally being for "ruler and compass constructions", you can define points, circles, lines... by their coordinates / equations.

Keyboard shortcuts

Esc. to cancel a construction or a selection.
Space to build what is selected in the elements list on the left (instead of double-clicking).
Tab to select the next item, useful if many points are close one to another.

Mouse

Scroll to zoom.
Click on a point/line/... to select it or click on nothing to cancel the selection.
Click on nothing, keep the mouse button down and move the mouse to move the whole image.